Isgrò Immersive Installation – Virgil's Bees
The largest digital work ever created by Isgrò
Cliente:

Fondazione Brescia Musei / Archivio Isgrò

Evento:

Isgrò Cancella Brixia

Tecnologia:

Mapping

Location:

Fondazione Brescia Mesi - Sala Capitolium
Thanks to the collaboration with the Brescia Musei foundation and Archivio Isgrò, we were able to devote ourselves to the creation of one of the works in the exhibition "Isgrò cancels Brixia" in Brescia: "Virgil's Bees." The largest digital work ever created by the Maestro.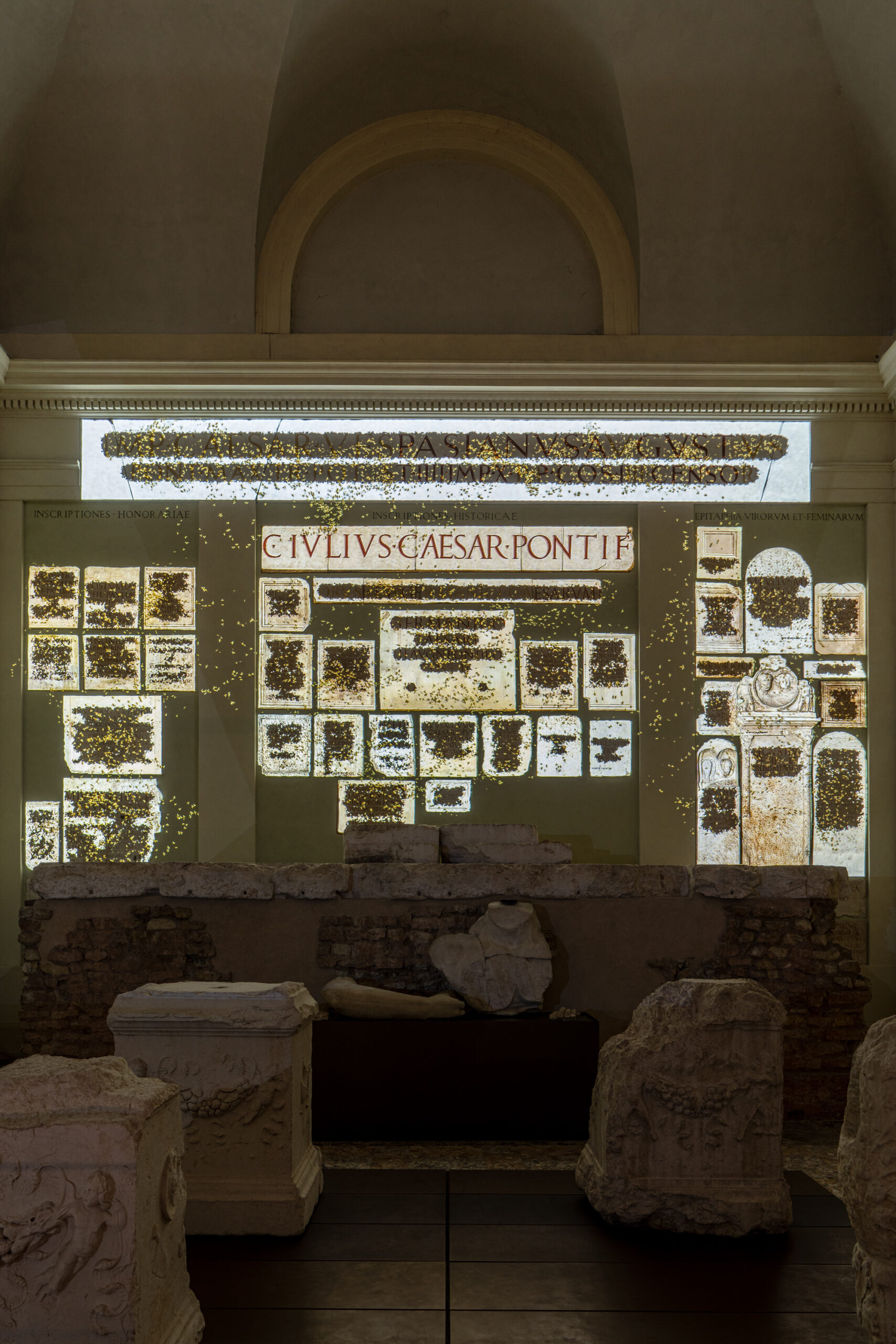 A multitude of bees in flight erase the inscriptions on the Roman epigraphs and compose evocative new words. All this within an already incredible space such as the Capitolium.
The viewer, immersed in this environment, remains as surprised as Aeneas was when faced with the sudden appearance of the souls that, like a swarm of bees, roamed the valley of the River Lete, in the episode recounted by Virgil in Book VI of the Aeneid.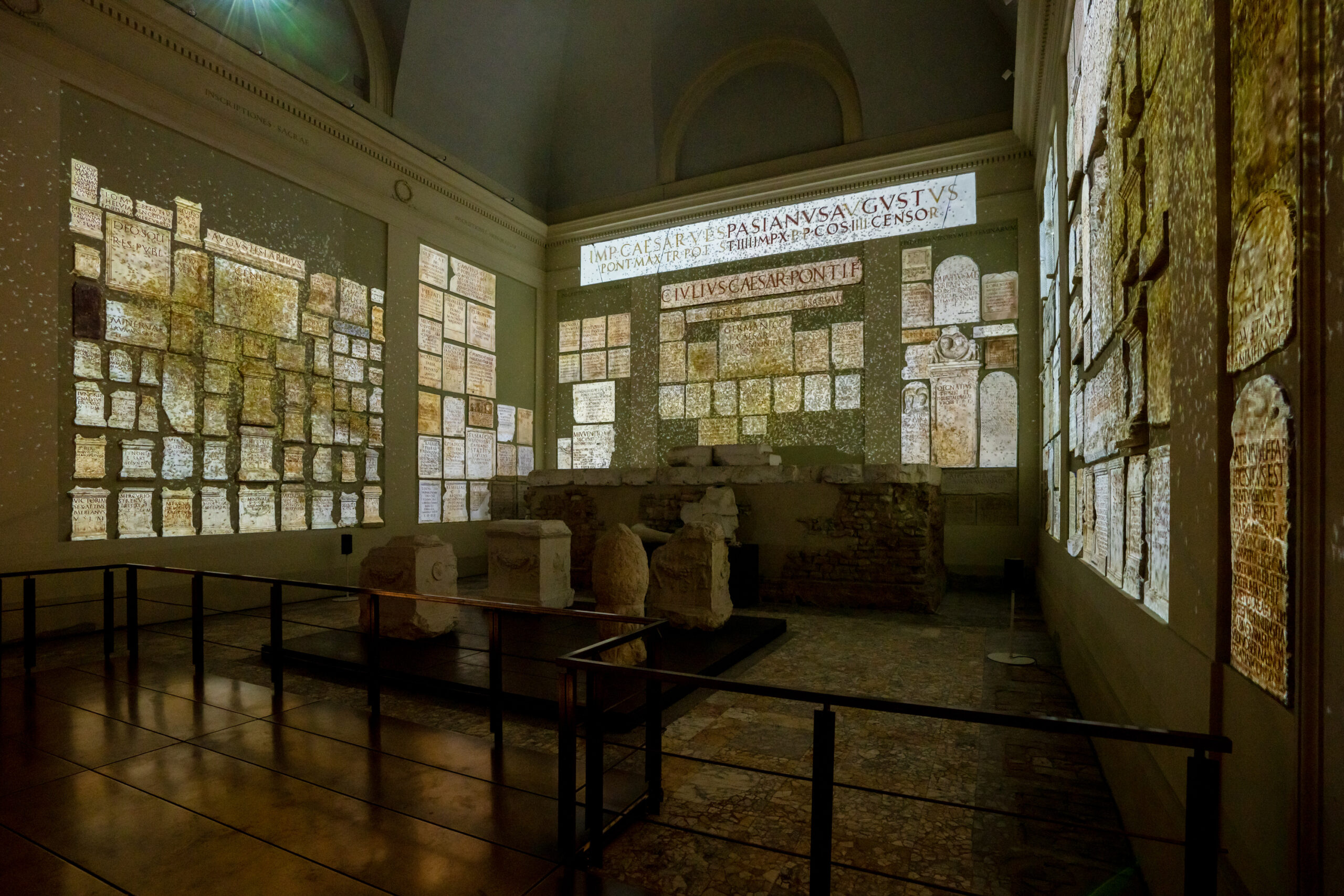 Emilio Isgrò's new and unprecedented site-specific exhibition project entitled "Isgrò cancels Brixia," involves the creation of a single majestic tour itinerary, which winds its way through the spaces of Brixia. An exhibition where painting and theater, digital technology and melodrama manage to coexist.
The installation "Virgil's Bees" kicks off the entire exhibition.
Always a symbol of industriousness and sociability, bees cover the inscriptions of Roman epigraphs and, once moved on, reveal suggestive new words, evoking the different temporality between ancient words and those proper to contemporaneity.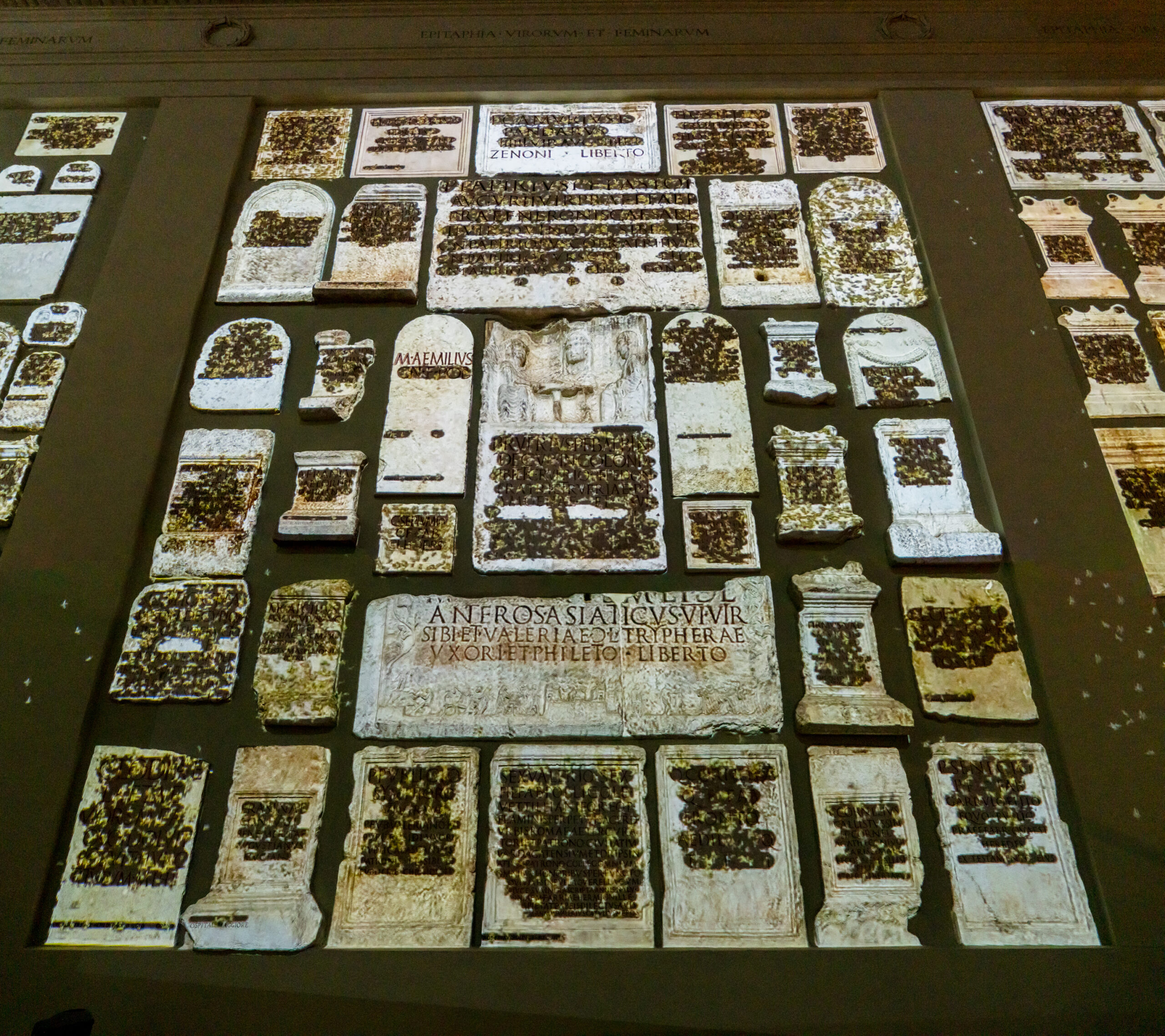 "Erasing Brixia" is a way for Isgrò to revive it in new and unexpected forms.
The exhibition will be on view until Jan. 8, 2023, inside the Capitolium.
Special Thanks to: bresciamusei & archivioemilioisgrò
Credits:
Alberto Gentilin (project leader)
Davide Briganti (account manager)
Alberto Baroni (digital artist)
Giulia Lazzaretto (creative designer)
Edoardo Piccolo (sound designer)
Photo Credits: Ela Bialkowska @OKNOstudio