TEMPO BOX: MAPPING LAUNCH
Vogue Fashion's Night: lancio wow per i nuovi Tempo box
Cliente:

Tempo - SCA Hygiene Products SPA

Evento:

Vogue Fashion's Night Out Milano

Tecnologia:

Monumental Video Mapping

Location:

Palazzo Bagatti Valsecchi - Milan
During the 7th edition of Vogue Fashion Night Out in Milan ( a major event for the fashion addicted, presenting new products and to celebrate one's brand), we were given the opportunity to present SCA's new Tempo Box Vogue Limited Edition.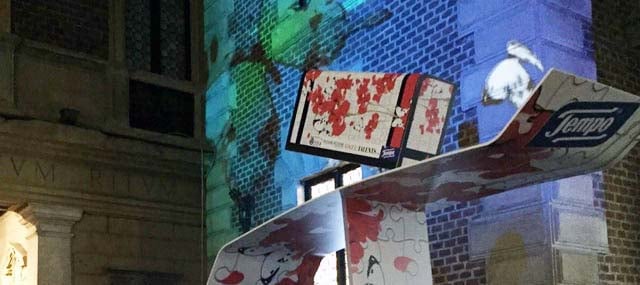 Conceived and designed by the stylist Piccione Piccione, the colorful and chic graphics of the new Tempo box came to life before the eyes of the guests at the exclusive unveiling party hosted by Tempo in the beating heart of Milan fashion.
The monumental video mapping projected on the historic tower of the "Palazzo Bagatti Valsecchi", amazing 3D animations and electro lounge music entertained the guests, creating a unique atmosphere in tune with the innovative design of the new Tempo Box!