AN ENTIRE VIRTUAL CITY IN AR
A huge nonexistent city lives with Augmented Reality
Cliente:

Sumou Real Estate

Evento:

Cityscape Jeddah - 2013

Tecnologia:

Augmented Reality & Interactive Tables

Location:

Jeddah - Saudi Arabia
Imagine seeing a huge nonexistent city on a table through an iPad. This is the idea we came up with for one of the largest companies in the real estate market of Saudi Arabia Sumou Real Estate.
For Cityscape Jeddah 2013 we had an important goal: to create an augmented reality installation that would go beyond the "wow' effect and allow the insiders to interact and leverage the technology in order to present and navigate through an entire city in 3D. The table with augmented reality has become a success. We also had the honor of meeting the Prince of Jeddah (Prince Misha'al bin Majid bin Abdulaziz) who, to our amazement, wanted to try out this innovative experience, interacting and literally flying over the city through the iPad.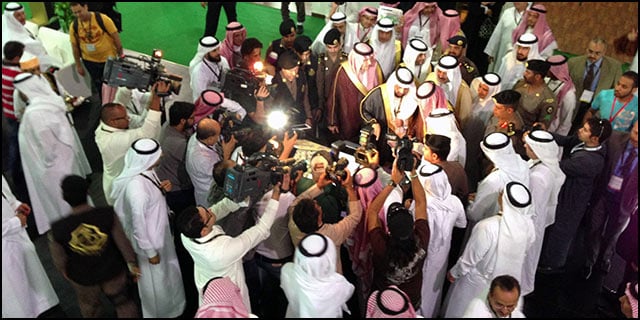 It was luck that we would meet a special client such as Sumou Real estate not only for the importance and grandeur of their projects, but above all for their warmth, hospitality and the splendid friendship and cooperation that we were able to establish. We were able to demonstrate to them our professionalism, dedication and passion.
And in the end, all the effort that we gave to the project was rewarded with great enthusiasm and interest. Thank you guys!